Welcome to Fairytale Friday! I considered "Magic Myth Monday," but this has a better ring to it.
I've thought a lot about what this first post should be. Should I define a fairytale? (I can't, not really. Others have tried. And failed.) Should I just dive in with the fairytale of my choosing? (Somehow "Blockhead Hans" didn't seem like a very promising start.) Or should I talk a little about what we understand of the weird and complicated history of fairytales, and just see where that takes me?
I decided on that option, though with many misgivings. I'm not sure I'm up to the task, frankly. The history of fairytales is as mysterious as a witch's curse—and by that, I mean it's complicated, dense, and has a tendency to lose its thread when it is most inconvenient. Fairytales span the entire earth, and have been around since god knows when; a true history would have to take into account Hindu legend, and Danish folklore, and every little mother who told a tale to her kids. I cannot tell you that history, because (1) it would take forever, (2) oral storytelling does not leave a clear track to follow, and (3) I'm not smart enough to get it all in. So this will be a crash course of a shortened version of an abridged history of literary fairytales—I can only chart one path that fairytales took, so here's that one, to the best of my knowledge.
Let's start with what we know: today, in 2015, fairytales are everywhere. We have "Once Upon a Time" on the small screen, the latest "Cinderella" adaptation on the silver screen, Frozen dolls in every small child's clutches; go to a library and you'll see fairy tale retellings stocking the YA shelves with promises of "romance and action!" gracing the back covers, go to your computer and you'll see Buzzfeed proclaiming a new batch of princesses dressed as pinecones or pandas or plesiosaurs. Fairytales are having a moment right now, and somebody—or several somebodies, with names like Grimm and Disney—got us to this place, somehow.

And considering all of that—this enormous bunch of cultural content, all focused on about two dozen stories that make up the backbone of our consciousness—it's amazing how little we know about where and when fairytales started. We have an idea that the first literary version of Cinderella cropped up in China around 850 AD, and the ancient Greek myth of Eros and Psyche bears resemblances to Beauty and the Beast; but neither of those instances clinch a starting place and time for fairytales, because they only show us when these tales were written down for the first time. A hallmark of fairytales is their gift for being told verbally; tell a fairytale once, and its essence will remain in the listener, ready to be told again. Fairytales could have started in India, or Africa, or on the South Pole with the penguins, and simply traveled; we could have been telling them since caves afforded comfort, or the day some harried Greek bard had to come up with a quick legend and decided to throw a story about a woman, a monster, a couple jealous sisters, and true love together in the hope someone would buy him a drink.
So where and when did fairytales begin, exactly? No idea. How did they travel? There, we have a better idea. Fairytales were spread by immigrants, conquerors, slaves, merchants, anyone with a reason to travel and a blank moment; and, eventually, books started to be made of the stories, and those books began to spread, and after a few translations and a couple of rough errors, a couple of Italian tomes by two chaps named Giambattista Basile and Giovanni Francesco Straparola landed on some bookshelves in the French court of the late seventeenth century. Which was very convenient, because Charles Perrault happened to be in the neighborhood, and he wanted something for his kids to read.
I know, I know. It's dreadfully awkward to start in 850 China and leap ahead to 1680s France. But picking up here is natural enough; it was around here that the stories we know, really know, began to come together in the form we recognize them in today. Though you wouldn't have thought that, if you were standing looking over the shoulder of Perrault as he flipped through Basile and Straparola's collections of tales.
Because what you would be looking at was weird. Basile's book was grounded in a low-class Italian dialect, contained loads of sex jokes, and reveled in gore; his version of Cinderella sets about getting her fairytale ending by beheading her stepmother. Straparola's book, though not as murder-minded, was also rough in style and notable mostly for the positive, magic-enhanced upward arc it gave to poor, simpleton protagonists. Other than that happy, rising nature—and a charming story about a cat who helps its master become king—the book didn't have much of a leg to stand on.
Enter Charles Perrault: lawyer, writer, champion of modern literature and big fan of Louis XIV. Having had enough of the intrigues of the French court, Perrault took to polishing up and adding to Basile and Straparola's stories, giving them an elegant tone and inserting more moralistic elements. Perrault wasn't the only one seizing on these types of stories; his contemporaries Madame d'Aulnoy and Gabrielle Suzanne de Villeneuve also wrote collections of fairytales inspired by these previous works, making for a bit of a boom in French fairytale production. It's Perrault's collection that stands out, though: it's stuffed with classic fairytales, and its courtly style and PG-13 tone make it the very model of a proper fairy-book.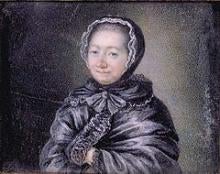 Madame Leprince de Beaumont, most famous for her rendition of Beauty and the Beast, wrote a collection of tales borrowed partly from Perrault and had it published in the mid eighteenth century. Her version was a hit, spreading into England and Germany in slapdash translations and heavily pushed onto young, upper-middle-class women as a way of teaching valuable moral lessons. Keep thinking about those young women—they'll be back. For now, let's switch our focus to two German academics with a nationalist bend.
Wilhelm and Jacob Grimm's lives up to this point could easily have fit in a fairytale. Their happy childhoods had been interrupted by the death of their father, throwing the family into poverty and forcing the two to seek their fortunes in a world run by warring princes. Germany was a fragmented land, and the brothers were sick of it—all they wanted was a united Germany, founded upon a shared language, set of values, and cultural customs. They set this great mythical nation as their goal, and set about it the only way they knew how: through language. Jacob took on writing a really great dictionary (he only got to the letter F on it before he died, but it did become the founding piece of today's German dictionary). And both brothers decided to compile a collection of distinctly German folktales, to show the German people who they really were—and the only way to do this was to invite people their house, serve them coffee, and ask them to tell tales.
Yes, that's right. Terry Gilliam's The Brothers Grimm wasn't the impeccably accurate historical documentary you thought it was; Jacob and Wilhelm didn't travel the country, seeking out ancient peasant women to tell them local folklore. Though they did talk to a few working-class people they met in the market of their hometown, there was only one group they talked to a lot about fairytales: bourgeois young women who had been raised on Beaumont's fairybooks.
Of course, the Grimms had no idea they were listening not to German folklore but to French stories derived from Italian ones. The Grimms, innocent intellectuals as they were, took for granted that the fairytales they were hearing been learned at the knee of some venerable German nursemaid. They had been struggling through law books and homework when the French fairytale books started floating around, so they happily edited and published multiple collections of fairy stories, complimenting them all the time for their uniquely German character.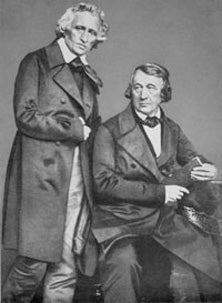 Unlike Beaumont's book, however, the Grimm's first collection wasn't a hit, with critics condemning it for being inappropriate for children. While Beaumont's fairytales were pretty and neat, with a style appropriate for the French court, the Grimms' had more violence, changed aspects of the tales to better suit their sensibilities, and a tone that lay awkwardly between nursery rhyme and academic paper.

Fortunately, that first collection wasn't the end of it. The Grimms kept revising their collections, and eventually the stories began to be translated and approved of. By the 1890s, the Grimms' books were required reading in some countries, and by the 1930s they had become a pivotal part of Nazi ideology, for those same misplaced notions of German-ness that motivated the Grimms.
But that's getting ahead of myself, so back we go to the Victorian era. By the 1830s, translations of both Perrault and Grimm had filtered into the rest of Europe, combining with local legends and spreading rapidly in editions illustrated by popular artists. With their innocent plots and obvious morality, fairytales fit with Victorian values perfectly.
Now that fairytales were so popular, fairytale tropes became prevalent and started leaking into entirely new stories, making a second wave of fairytales. George Macdonald's story "The Princess and the Goblin," Thackeray's "The Rose and the Ring," and Hans Christian Andersen's entire oeuvre are the most stunning examples of this trend, though there were many more—my personal favorite is a collection called "Doorway to Fairyland," which is as rooted in the Victorian era as it is classic fairytale tradition. These second-wave fairytale writers took the tropes they saw in Grimm and Perrault—princesses, fairies, magic items, true love—and mixed them in with their own lives and own preoccupations, resulting in stories bristling with irony, Romantic influence, and such Victorian objects as tinderboxes and toy soldiers. I would really love to go into this more, but it is getting late and Andrew Lang is still waiting.

By the late 1880s, the fad for fairytales had died, or at least run down to a dull grind; stories with magic in them were being called "immoral" and "harmful to children" (not, it should be noted, for the first or last time). Fortunately, Lang felt differently, and he had a fantastic translator on board in the form of his wife, Leonore Blanche Alleyne. Together, these two set about making the iconic Rainbow Fairybooks, with Mrs. Lang doing most of the actual work and Mr. Lang standing by to pick the stories. The Rainbow Fairybooks were, as far as I can tell, the first collection to really break out of the Grimm-via-Perrault-via-Basile mold; the Langs included those stories, yes, but they also made an effort to bring in more obscure folktales from places beyond France, Germany, or Italy. Even J.R.R. Tolkien agreed, saying, "None rival either the popularity, or the inclusiveness, or the general merits of the twelve books of twelve colours which we owe to Andrew Lang and to his wife." Though Andrew Lang did try writing a few original fairytales—with "Prince Prigio" being his best and brightest effort, and definitely worth a read—it is his repackaging of old fairytales he is most remembered for.
The Langs were the last Really Important People to spread fairytales in a written form—after him, any and everyone cobbled together fairytale collections, and Disney came to the fore as the most popular teller of tales, even as he used animation cells instead of words to convey the stories. Like every teller before him, Disney altered parts of the stories to suit his purposes; he is the reason we remember Cinderella surrounded by mice instead of birds, or Snow White eating an apple rather than trying on a corset.

And so fairytales lived happily ever after: ever-changing, and usually used to prove a point, but always remaining easy to tell and easy to love. Why are we so drawn to stories where girls go to balls and princes turn to beasts? Why do we feel a need to push and pull at them, playing with the details and being postmodern?

That's for another post. For now, good reading and goodnight.